It's CatholicWang!
I like evidence and part of my embryonic doctoral thesis is about formulating an epistemology of my specialty. There is something of a dichotomy between the qualitative and the quantitative when discussing the trustworthiness or the value of particular pieces of research. I have been impressed by the humane work of
Professor Trish Greenhalgh
in that she knows her onions when it comes to evidence based medicine and critical appraisal. But she knows a thing or two about intuition as she shows
here
.
Everyone is testing how Catholic they are or whether they are a heretic or not - even
Fr Ray
and
Joee
. I've done
this
survey which tells me to my relief that I'm a Catholic (I knew that) and adds other dimensions too. But I'm not sure telling me I'm 21% modern liberal really tells me anything, because it doesn't really mean anything. I am NOT a modern liberal.
So, here's a different, rather more
intuitive
test: you KNOW you are a Catholic when THIS makes you feel good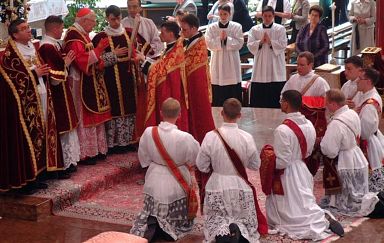 and THIS makes you want to barf.