In Hoc Signo Vinces
Young
Joee
asks "What does In Hoc Signo Vinces mean?"
In Hoc Signo Vinces
means "In this sign conquer" and relates to a dream of the
Emperor Constantine
. Eusebius states that Constantine was marching with his army when he looked up to the sun and saw a cross of light above it, and with it the Greek words "Εν Τουτω Νικα" ("by this, conquer!", often rendered in Latin as In hoc signo vinces). At first, Constantine didn't know the meaning of the apparition, but in the following night, he had a dream in which Christ explained to him that he should use the sign against his enemies. As thanksgiving to the God of the Christians, Constantine issued the edict of Milan in 313, tolerating the Christian faith throughout the Empire. In the end Constantine himself accepted baptism before his death in 337
The Emperor adopted the Labarum, the military standard used by Constantine in his later wars against Licinius, showing the Chi-Rho sign.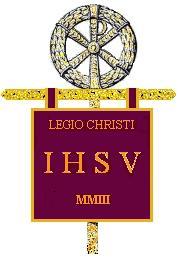 I chose that as the name of the blog as I had reflected on the Cross last Lent and I was brought to a deeper understanding of the fact that only through Christ's sacrifice on the Cross could I be saved and through the daily re-enactment of that one, unique and precious sacrifice in the Mass could I have life.
The English translation of In Hoc Signo Vinces is found on the cap badge of the Army Chaplains Corps.