The Stripping of the Altars
How was this allowed to happen? My apologies for the quality of the picture (scanned from a parish magazine from 1959) This is the church in which my parents were married, my sisters were baptised and my uncle ordained to the priesthood.This church, designed by Adrian G. Scott in the Gothic style, was opened in 1931.
This is what it looked like at the Quarant' Ore devotion in 1959:
This is what it looks like today: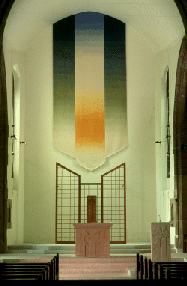 What purpose was served by removing the simple, dignified high altar and reredos? Is there no recognition that the stones of our churches make up a part of the substance of our faith? Is this how the bewildered Catholic people of England felt when Cromwell's men went to work? It certainly feels like the process
Eamon Duffy
describes.
"It was theologo-philistinism chilling in its austerity."
Carl Green, Oriens
I might ask
Fr Nicholas
, who is a stone's throw away at Willesden to take a photograph the hideous tabernacle. I was so horrified by it, I couldn't bear to snap it at a family wedding last year.