In vino veritas
My chestertonian father-in-law gave me one of my best ever birthday presents some years ago - membership of
The Wine Society
. They have some fantastic wines delivered to the door but they clearly haven't judged their Scottish members very well by offering something called
The Ned
. For those of us North of the Tweed know that
Neds
tend to drink a monastic brew, familiar to anyone who has walked the streets of Glasgow, Airdrie or Coatbridge, rather than a sophisticated sauvignon.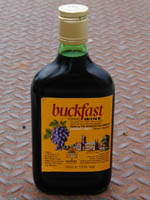 My dear friend, a monk of
Downside
, told me once of a time when in fit of post-Conciliar soul-searching the community wondered whether they should be using expensive
muscat
for communion, given The Spirit of the Council (etc, etc)
"Well, there's no good reason why Our Blessed Lord shouldn't
taste nice
!" said a monk of the old school. The muscat survived.